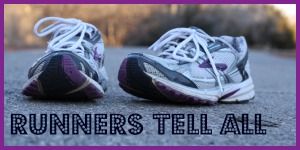 I missed out on July, but I am happy to be back for the Runners Tell All link up with
Amanda
and
Beka
this month!
Training has never really been my thing. I didn't like practicing piano when I was younger. And I absolutely despised basketball practice. Not sure why, but I always just preferred to turn it up on game day. No practice needed here!
And then I started running. Training is a pretty important part of the whole running scene. I still don't like it...and even found out recently that I ran faster when I simply cross trained instead of going on practice runs prior to
one of my races in early June
. Regardless, I know that training is an important part of running. So, I struggle through it when I have long races on the horizon.
My plan usually consists of figuring out how many weeks I am able to devote to training and then finding an online guide that best fits that time frame. I typically tweek the online guide to fit my schedule and then do my best to stick with it. This worked particularly well for the
NYC Half
back in March. I had limited time to train, but put together a plan that involved three short runs and one long run each week along with a boot camp day for cross training purposes. I set a PR at the race so it must have worked for me!
I've learned that the most important part of training is listening to your body. When I
began training
for the NYC Marathon last year, I was determined to hit all the runs on my training schedule and wore myself down pretty quickly in the process. About
halfway into training
, I realized that sometimes running two miles less or taking a rest day altogether is exactly what is needed. I've found it works best for me to stick fairly close to a schedule, but to also allow myself some flexibility.
What works best for you in regarding to training for races??
Andrea :)