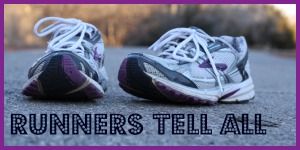 I'm super excited to be co-sponsoring the Runners Tell All link-up with
Beka from Sunshine to the Square Inch
and
Amanda from The Lady Okie
this month! I hope you have a post about your favorite running gear and products ready so you can join in all the fun today! And did I mention there is a giveaway, too?!?! Be sure to read to the bottom for more info about how you could win!
As you may have noticed from the title of this post, I'm a
Nike
girl. I didn't start out that way. In fact, I avoided the Nike products mostly because I thought they were overpriced honestly. The turning point came in the form of a gift. My very new boyfriend at the time wasn't too sure what to get this birthday crazed girl that was training for her first half marathon. He wisely decided to treat me to a trip to
Jack Rabbit
- a local NYC running store - that does specialized fittings for running shoes. As it turns out, a pair of white and red Nike shoes were the perfect fit that day. For the past four years, I haven't gotten tired of him (check out our engagement story
here
) or the Nike running shoes. I now run strictly in the Nike Structure. I love them...and as long as I switch them out roughly every nine or so months depending on how much I am running, they work well for me.
I'm not super picky about what I'm wearing as long as I am not too hot or too cold. I tend to reuse races shirts most often, but it is rare I go without my best running find ever - my Nike running capri pants. They are perfect for pretty much any type of run - indoor or outdoor (even when it's a bit chilly). I didn't wear them for the
NYC Half
this past weekend, but I did wear them for the
NYC Marathon
back in November. I truly can't express how much I love these pants! I found them on a sale rack and snagged them up mostly because they had a zipper pocket on the waistband in the back. I needed something to hold my keys during long training runs and these looked like they would work. I have gotten my money's worth times a million. And as it turns out, the zipper pocket is also big enough for a pouch of gu. Perfect!
During these lingering weeks of winter, I have been thrilled to have my dry fit NFL branded Nike hat and my new Nike gloves. My little brother got the gloves for me at
Christmas
. I've been surprised how much I liked breaking them in over the past couple of months. They are a tad bit too long for my small hands, but the only real disadvantage there is the difficulty it causes if I try to use my phone. They have an awesome little key pouch that has come in very handy.
I'm not too picky on undergarments, but I have found a couple of solid pieces that I refuse to race without these days. I really like the
Swiftwick
socks for long runs and races. They keep my typically sweaty feet dry and comfy. On the other hand, sports bras have been the bane of my existence for pretty much all of time. I finally found one that works, but I still think there has to be something better out there for those of us that need a little extra support up top. The brand I have been using is
Moving Comfort
. Any suggestions for me would be very welcome though!!
These last two products are non-negotiable. At least the
Body Glide
. I simply will not work out period without a good coating of this stuff. It is phenomenal. I really should buy stock in it. The other product is a new find for me, but I am really liking it. The
Clif Shot Bloks
don't seem to upset my stomach like the gu or gels usually do, and the taste isn't bad either. These two are definitely my favorites when it comes to powering up before and during a run.
What type of running gear and products do you live to use? Any suggestions for something new I should try?
Andrea :)
To fit with this month's Runners Tell All theme, we are giving away a $30 gift card to Lululemon. The winner will receive the gift card via email. The giveaway is open internationally because Lululemon has locations worldwide. Good luck to all!!
a Rafflecopter giveaway