Where do I even begin? Our relationship is so much different from mine and
Jordan's
. Mostly because we grew up in different eras, but also because I've been far more protective of you. You are the baby after all :) And I know you know that big sis always had your back...and she still does! In all seriousness though, I am so very thankful to have you as a brother. You always seem to know just the right thing to say - mostly funny, but sometimes serious. I know I can talk to you honestly and you seem to understand me...definitely wise beyond your years! I can always count on you for an adventure or just a regular good ol' fun time. In the more recent years, we have been paired up on family trips and for all the rides at amusement parks. And although we sometimes
hated
got annoyed by it, I truly treasure many of those times because they were spent with one of my favorite people - YOU! I know you aren't doing too much for your birthday this year, but I wanted you to know that I've turned it into a celebration here in NYC. Hope you have a happy one! I love you little Bubsa!
*Picture Disclaimer(s):
1) I may or may not have re-purposed the leftover
Halloween cupcakes
for this birthday celebration.
2) Those may or may not be my calcium vitamins for the numbers...I try to be resourceful.
3) This may or may not have been my breakfast.
Linking up with Sar and Meghan for Thankful Thursdays: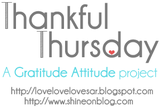 Andrea :)