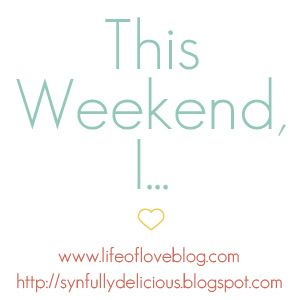 This weekend, I went home to Kentucky and did lots and lots of celebrating!
On Thursday night, I flew to Kentucky for a weekend filled of fun!
I stayed up WAY too late with my brother and sister-in-law just chatting while they did some last minute party prepping.
Friday, I slept in a little and then went for a run with Jordan. We ran just over 3 miles through his development and a neighboring one with a nature trail. It was humid and exhausting, but fun!
Then Chris arrived and we all headed over to Chick-fil-A for lunch. YUM!!

After lunch, Chris and I babysat for a little bit while Jordan and Jen ran some errands. We were worn out, but we had a lot of fun!


Friday night we played games with family before we headed over to my best friend's house for the night. She was so sweet to make little welcome treats for us!


On Saturday, we had a fun-filled day of celebrating Brinley! I'll post more about the party and all my sister-in-law's awesome decorations later this week, but here's a sneak peek of the cute little birthday girl in action!


Saturday night, we spent some time grilling out and playing games with Ashley and Paul. Such a fun night!



Sunday morning, we headed off to church at Southland. We made a pit stop at Krispy Kreme first though!
We really enjoyed the service. They even spoke about Central Park and NYC during the opening as an illustration. No matter where I go, New York seems to follow me!
We went out for a great lunch as a family before Chris left to head back to New York and the rest of us headed over to Rupp Arena for McKinley's graduation.
Super proud of him and all of his accomplishments so far!!
I am still in Kentucky today, but head back to New York tonight. It has been a wonderful little vacation for me, but a very busy one!!
Hope you all had a fantastic weekend!!
Andrea :)