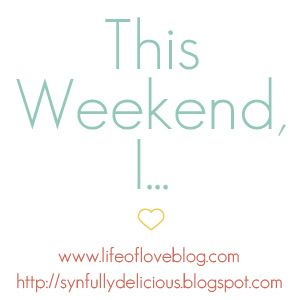 This weekend, I was able to relax for a change! I still managed to get a few things done, but mostly I just tried to catch my breath from all the recent traveling. It can wear a person out sometimes!
On Friday, I met up with friends at
Tavern 29
to celebrate Amanda's birthday! It was a great venue! Lots of fun catching up with friends I hadn't seen over the past few weeks!
On Saturday, I tried out a new recipe for breakfast - Pecan Pie muffins. I'll share more about these tasty little treats with you later in the week. For now, check out this scrumptious goodness...
Later, I went for a run. Not just any run though! My first solo run in Central Park. Sure, I've run several races there at this point. And sure, I shouldn't be scared of running there alone. But, I
am
was. I didn't venture too far into its depths, but I did manage to run a solid couple of miles in there before detouring over to Michael's up on Columbus. Spent WAY too much time there, but did manage to find some great stuff...as always!!
On Sunday, I unfortunately slept way too late. I had intended to get up and go to church, but the time for that came and went and I was still sleeping. I told you I was worn out! Anyway, once I did wake up, I tried to make as much out of the day as possible!
I went for another run. This time I stuck to my standard area - the West Side Hwy. However, I took a detour around 14th street to head over to JackRabbit to pick up some new shoes. I came across the cutest little park via this detour - Hudson River Park. It even has free wifi! Great little spot tucked away at 14th street and 11th ave. It's not too far from the entrance to the High Line Park, Chelsea Market, and the meatpacking district, but it seemed very peaceful there. Not crowded at all which is very odd in NYC...especially on a nice day! After a brief stop there, I did manage to make it to JackRabbit. I found a couple of pairs that I liked so I bought one (on the right) and ordered the other (on the left) with a Nike giftcard I have been meaning to use for ages now! Worked out great! Now, I have the perfect motivation to get myself in the training spirit for my upcoming races and the ever important 2013 NYC Marathon!! Yay!
After all that, I managed to get home in time to make it to the laundromat. Perfect timing! Too bad there is an OH SO delicious bakery next door. I couldn't resist a treat this time...
I rounded out the night by working on purchasing and creating some upcoming gifts. Lots of birthdays (and our anniversary...this Wednesday!!) coming up in the next few weeks!!
How was your weekend?
Andrea :)